Burberry London (new) Cologne By BURBERRY FOR MEN
Burberry London (new) Cologne by Burberry, In 1856, 21-year-old former draper apprentice Thomas Burberry opened an outfitter shop in Basingstoke, Hampshire, England, and started a fashion empire . With his focus on durable, comfortable fabrics, Burberry's store became known as an emporium with a focus on developing outdoor wear for local residents and visiting sportsmen. In 1981, Burberry spread its influence into the world of perfumery with its line of men's Burberry cologne and created an instant sensation with Burberry for Men. For more than 150 years, Burberry has shaped the fashions of London and the world, and Burberry London for men continues its tradition of distinct, captivating fragrances.

Launched in 2006, this refined scent has become one of the signature Burberry colognes. The secret to the heady scent of this Burberry perfume for men is the unique collection of ingredients that meld into each other over time, creating a symphony for the senses that becomes more complex as it wears. The attention-grabbing top notes are sweet, citrusy bergamot complemented with lavender, warm cinnamon, and fiery black pepper. When wearing Burberry London, men will experience the lingering heart notes of soft, hazy mimosa flower deepened with rich port wine and intoxicating leather. The lasting base notes resonate with smoky guaiac wood, dry oakmoss, honey-like opoponax, and mild, sweet tobacco leaf. An opulent, magnetic scent that invokes fall in all its glory, Burberry London for men is a perfectly balanced medley designed for hours of wear in any setting, day or night.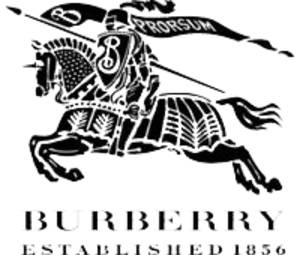 Burberry was founded in 1856 when 21 year old Thomas Burberry, a former apprentice to a country draper, opened an outfitters shop in Basingstoke, Hampshire, England. Business thrived and by 1870 Burberry became known as an 'emporium' with an increased focus on the development of outdoorwear for local residents and visiting sportsmen who frequented the store.

In 1879, Thomas Burberry invented gabardine - a breathable fabric made using an innovative process whereby the yarn was waterproofed before weaving. This fabric was not only water-resistant but also extremely durable. A patent was taken out in 1888.

In 1891, Thomas Burberry opened his first shop in London at the Haymarket, now the site of Burberry's corporate headquarters.

In 1901, Burberry was commissioned by the War Office to design a new service uniform for British officers.

The Burberry Equestrian Knight logo was developed and registered as a trademark in 1904. This decade also saw the opening of stores in Paris and New York. The Norwegian explorer, Captain Roald Amundsen, was outfitted by Burberry when he became the first man to reach the South Pole on December 14, 1911. Amundsen left a Burberry gabardine tent to inform Captain Scott of his successful mission. After Amundsen reached the South Pole, Ernest Shackleton was determined to be the first explorer to cross the Antarctic continent from coast to coast. He too was outfitted by Burberry in his 1914 expedition.

The Burberry check, registered as a trademark, was introduced as a lining to the trenchcoat in 1924. Soon the red, camel, black and white check became synonymous with Burberry.

Burberry also played an important part in aviation, producing specially designed garments for aviators. A.E.Clouston and Mrs Betsy Kirby Green made the fastest flying time to Cape Town from London in 1937. This air race was won by the pair in a De Havilland DH88 Comet sponsored by Burberry.

During the Second World War, Burberry continued to supply high quality gabardines to servicemen in all branches of the services. Burberry was first awarded the Royal Warrant from Her Majesty The Queen in 1955.

The Burberry check had been primarily used as a coat lining until a presentation in 1967 saw the trademark design applied to umbrellas, luggage and scarves.

In 1970, Burberry opened a New York flagship store at East 57th Street. The 1980s were a period of retail development in the United States. Burberry complemented the New York flagship with store openings in San Francisco; Chicago; Boston; Philadelphia; Washington DC; Troy, Michigan; Manhasset, New York; Short Hills, New Jersey and Costa Mesa, California.

In 1997, a new management team began to revitalise the brand with new design collections, new product ranges and a distinctive new advertising campaign. In February 1999, Burberry staged the first catwalk show for its collections during London Fashion Week and was honoured as a British Classic Design Collection of the year.

The dawn of a new decade re-established Burberry as an icon of enduring style. Burberry was again honoured in 2000 and 2001 by the British Fashion Council in both the Classic and Contemporary design categories.

Burberry Touch, the new fragrance for men and women was launched in 2000.

In September 2000, the Burberry worldwide flagship opened on New Bond Street in London's West End. The design and ambience reflects the new spirit of Burberry, the original luxury brand.

---
Showing 1 to 5 of 5 (1 Pages)